Not Sure Which Color Printer Suits You Best? Here is Your Printer Buying Guide
Decided to take the leap and invest in a colour printer for your home or small office?
Perhaps you've created a gorgeous work of digital art and wish to share it with the world by displaying your art in your home. Or maybe you feel that having the right colour images can help to improve the impact of your work documents or presentations.
But how do you choose the best colour printer to meet both your professional and personal needs? After all, there are literally thousands of different colour printers out there.
The good news? Colour printers have evolved over the past few years—many models now offer superior photo-quality print results and convenient state-of-the-art features—so you are totally spoilt for choice. You will also be glad to know that most colour printers today include multiple functions like copying, faxing and scanning.
Types of colour printers
When searching for a colour printer, it's generally a toss-up between an inkjet printer or a laser printer. This decision largely hinges upon what you print and how often you print.
Let's consider inkjet printers first.
Qualities of an inkjet colour printer
An inkjet printer is a type of printer that works by expelling ink droplets onto paper. Such printers use liquid ink from individual color ink cartridges or internal ink reservoir tank, which are then expelled through separate nozzles—each one spraying a different colour of ink.
Pros of an inkjet colour printer:
Cost is one of the biggest advantages of colour inkjet printers. Even the least expensive inkjet printers are able to produce images with great quality.
If price is a top-of-mind concern for you, then an inkjet printer would be your best bet for low-priced colour printing in a home/small office setting.
As we have alluded to above, the advancement of ink technology has enabled inkjet printers to provide high-quality output for both images and text. Due to their finer and smoother colours and detailing, inkjet printers are built for high-resolution photo printing.
With the level of quality of most colour inkjet printers today, it can be difficult to differentiate between a professionally-printed photograph and one that's been printed using your inkjet printer – especially when printing on photo paper!
Inkjet colour printers also tend to be more compact in size compared to laser colour printers. Even inkjet printers that are multi-functional do not have a large footprint. This makes them suitable for homes or workplaces that have tight spaces.
Cons of an inkjet colour printer:
Most inkjet printers are designed for low-volume printing. Thus they may take longer to churn out large print jobs.
The slower print speed of inkjet printers, however, is slightly mitigated by the fact that an inkjet printer can start printing as soon as the printer is turned on, without needing any warm-up time.
Qualities of a colour laser printer
Colour laser printers combine the speed of traditional monochrome laser printers with the ability to print in colour. In laser printers, colour is added to the page by melting toner powder onto paper.
The initial cost of laser printers may be higher than inkjet printers. Likewise, the toner cartridges used in laser printers are also pricier than the inks used in inkjet printers. However, colour laser printers could still be an economical option in the long run due to their lower cost per page and faster print speeds.
Here is a breakdown of the main advantages and disadvantages of colour laser printers.
Pros of a colour laser printer:
Laser printers are traditionally built for speed (around 50 pages per minute!) while inkjet printers print slower at about 16-20 pages per minute.
When comparing your printer's pages per minute (ppm) rating, do bear in mind that such ratings usually depict printing under optimal conditions—usually with documents consisting of unformatted black text sent to the printer. Once factors such as document formatting, colour, and images are thrown in, print speeds will tend to slow down.
Cheaper printing cost per page
Everyone knows that the higher upfront costs of laser printers and toner cartridges are partially offset by their lower cost per page. This is because laser toner cartridges can print significantly more pages than inkjet cartridges—even in colour.
How do we calculate the cost per page?
Cost per page is the most accurate way of measuring your printer's cost-efficiency. To calculate your printer cartridge's cost per page, simply take the price of the cartridge and divide it by the expected page yield of one cartridge:
For black and white printing:
cost per page = cartridge price / cartridge page yield
For colour printing:
cost per page =(black cartridge price / black page yield) +( 3x colour cartridge price / colour composite page yield) + (drum price / total composite page yield)
Colour laser printers are known to be workhorses—they simply come built with the capacity to quickly churn out large numbers of documents and pages.
Good colour print quality
With the technological advancements in laser printers, the quality of the colour prints has seen vast improvements in recent years. As such, whether you're printing photos for personal use or professional use, you can expect excellent colour prints from your laser printer.
Cons of a colour laser printer:
More suited for document printing
Colour lasers are designed to print documents. While they can also handle graphics-and-text documents like brochures and newsletters, laser printers may not be optimal for printing photographs.
Due to their relatively larger footprint, colour laser printers function best in larger offices and other professional work settings. If space is not an issue for you, you may want to consider colour lasers for your printing needs even in your home.
Quick and Easy Tips To Improve Colour Print Quality
How do professional photographers and designers create high-quality colour prints? This is the million-dollar question that we will address in this next section.
Vibrant colour yield (RGB to CMYK Colour Variances)
There are two ways to print in colour: RGB or CMYK.
RGB stands for Red, Green and Blue. The RGB colour mode combines these base colours in varying quantities to form just about any colour you can imagine. For example, if you want to create a yellow colour, you would simply combine green and red.
CMYK works quite differently from RGB—here, the printer uses subtractive colours, or Cyan, Magenta, Yellow and Black. In CMYK mode, all of the colours are subtractive which basically means that the more colours you add together, the darker the resulting colour is going to be.
When printing documents on CMYK printers, do ensure that you are creating your documents in CMYK colour mode. If they are not designed in CMYK, you can also convert them to CMYK through a photo editing program such as Adobe Photoshop, or layout programs such as Quark Xpress or Adobe InDesign.
● Print Resolution
Print resolution is measured in DPI (dots per inch). The more dots there are in an inch of paper, the sharper the resulting image.
Your printer needs to have a resolution of 600 dpi in order to print high-quality documents (and 1200 dpi to achieve sharp, detailed images).
When shopping around for printers, you may notice that print resolution is always presented as a set of two numbers, for example 1200 x 3600 dpi. This means the maximum resolution of that printer is 1200 multiplied by 3600 dpi.
● Paper Type
Substandard paper can result in substandard colour print quality so be sure not to overlook this small but important factor! Often, print problems such as excessive colour bleeding or colour dullness can be attributed to low-quality paper.
How to Choose the Right Colour Printer
Now that you've learned the characteristics of both colour inkjet and laser printers, your next task is to choose the best colour printer for your use.
1. Print Quality
If you're expecting to print a lot of photographs on glossy or matte photo paper, a colour inkjet printer may be the best fit for you as the quality of the output is superior when photo paper is used.
However, if printing on plain printer paper, the print quality of a colour laser printer is on par with an inkjet printer.
2. Print Volume
Colour laser printers also work well if you need to churn out many documents per day—for most home printer buyers, this usually isn't a dealbreaker as they normally only print a few documents every few days.
Thus, as you can see, the right colour printer for you really boils down to your expected print usage and your preference in terms of print quality.
Types of Colour Printers from Brother
Considering getting an inkjet or laser colour printer? Take a look at these recommended models from Brother.
Best for Affordability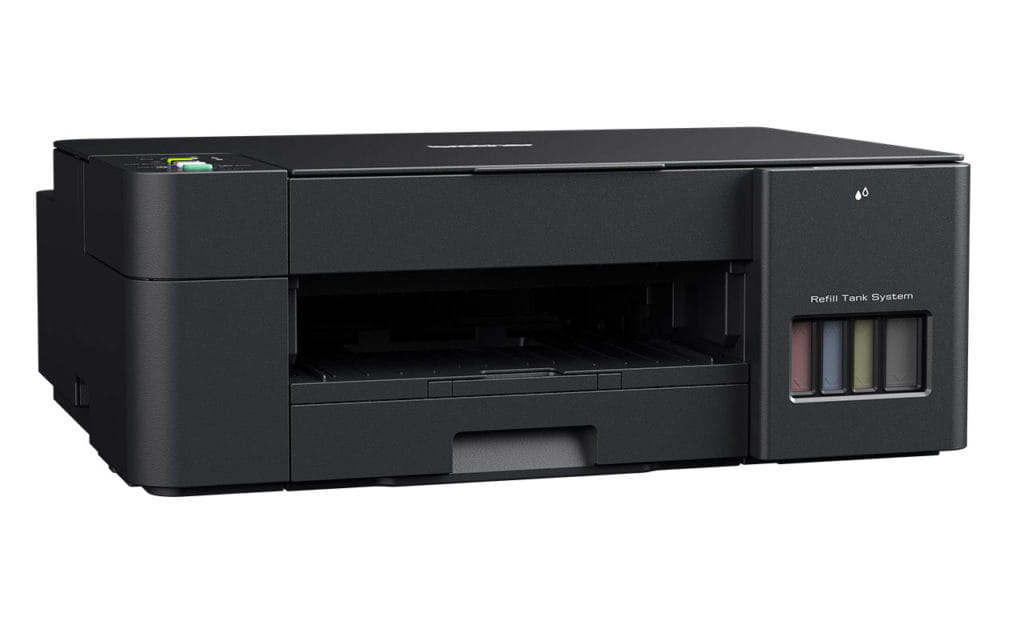 The DCP-T420W is an affordable colour inkjet printer that offers cost-savings in the long run due to the ultra high yield ink bottles, which allows you to print 7,500 pages in black and 5,000 pages in colour. It also delivers professional quality prints with crisp black text and vibrant detailed images.
Best for Features
The DCP-T520W combines multiple functions of printing, scanning and copying into one nifty printer. It uses the same ultra high yield ink bottles as the DCP-T420W, thus allowing you to enjoy better page yields and lower costs per page.
Best for Efficiency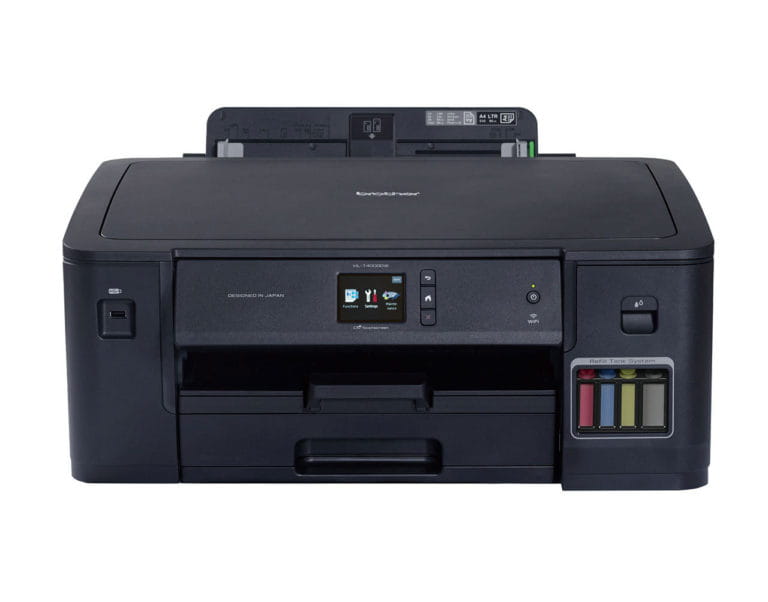 If you have a need for speed, the HL-T4000DW might be your ideal choice for a printer. It features automatic 2-sided printing, prints up to A3 size, uses ultra high yield ink bottles, and is able to print up to 22 images per minute or 35 pages per minute (in fast mode).
Best for Versatility and Overall Performance
Brother's latest inkjet Multi-Function Centre MFC-T4500DW delivers business-class performance at a reasonable price. With low printing costs, you can print high volumes without constantly worrying about your bottom line. Furthermore, it also offers A3 paper printing capabilities, so you can expand and showcase your work without having to lose any details.
Best for Speed
Brother's colour laser all-in-one MFC-L3735CDN delivers excellent colour performance with fast print/scan speeds. It also offers lower cost thanks to super and ultra high-yield toners. This intelligent multi-tasking printer is equipped with a dual CIS Automatic Document Feeder that allows you to scan up to 70 sheets directed to your preferred medium. It also comes with advanced security features.
Best for Home and Small Business
The Brother MFC-L3770CDW colour laser printer delivers superior colour performance and fast print and scan speeds, making it the perfect companion for your home or small business printing needs. This workhorse is able to boost your productivity with fast colour print speeds of up to 24ppm.
Conclusion
Deciding on the best colour printer for your home or office will depend on your specific printing needs and the factors that stand out the most to you.
We hope this detailed comparison between inkjet printers and colour laser printers will help you to make the right buying decision for yourself!