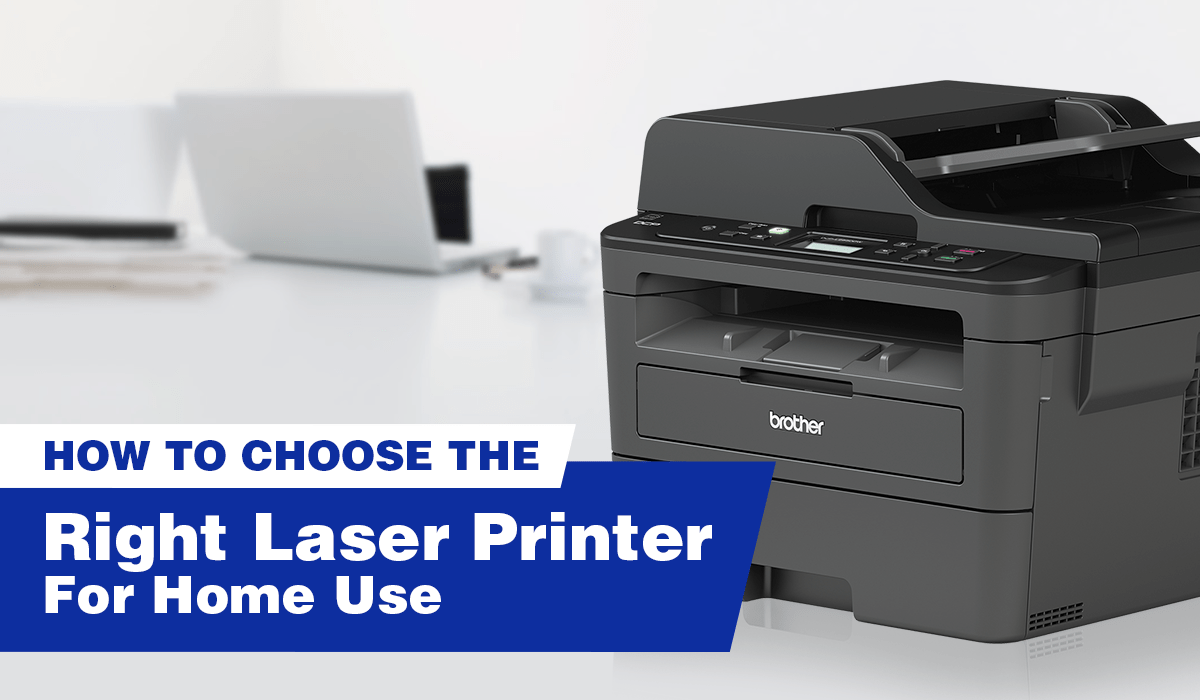 Looking For The Perfect Laser Printer? Here Are 10 Top Factors To Consider
Are you looking for a laser printer for your home? Wondering if a laser printer is a worthwhile investment?
Contrary to conventional wisdom, it makes perfect sense for families and home-based businesses to buy laser printers. The main advantages of laser printers are their greater speed, durability, precision, and economy. Indeed, a laser printer can move very quickly, allowing it to churn out documents and images at a much greater speed than the average inkjet printer.
Furthermore, thanks to the advancement of technology, laser printers are now becoming more accessible for home and personal use. The prices for many models have come down considerably and their sizes are getting smaller too!
To decide if you should give laser printers a shot, you may need to first think about your expected usage.
Do You Need a Laser Printer?
Do you frequently need to print high volumes of black and white documents?
Value having clear and sharp text on your printouts?
Always need your printing jobs done in a hurry?
If your answers to the above questions are "Yes," then it's likely that you and your laser printer will be a match made in heaven.
But don't go running off to the electronic or hardware stores yet. You need to first consider the pros and cons of laser printers.
Pros of Laser Printers at a Glance:
Laser printers are built for speed and volume. If you are a high-volume user who appreciates efficiency, this will definitely spark your interest.
Laser printers also produce crisp, sharp text. If your print jobs are mostly text documents with the occasional image or two, laser is probably your best bet.
Laser printers tend to have a lower cost per page. Although toners are more expensive, you will get higher yield in terms of more pages out of a toner cartridge compared to a traditional inkjet cartridge.
Most lasers also come equipped with high capacity paper trays which saves you the hassle of constantly having to top up paper.
Cons of Laser Printers at a Glance:
The upfront cost of a laser printer is usually higher, although the newer models are surprisingly affordable.
Laser printers cannot handle photographic paper but inkjet printers can.
Laser printers tend to be bigger and thus would take up a larger footprint in your home.
What to Consider When Buying a Laser Printer for Your Home
1. Upfront Cost
When it comes to buying a laser printer, your first consideration is typically the cost of the printer itself. While you may desire certain features in your printer, it is often your budget that will take up the bulk of your decision-making process.
If affordability is top of mind for you, you may want to check out the Brother DCP-L2531DW. This laser workhorse is designed for personal productivity and cost-efficiency, and the bonus is that it doesn't cost an arm and a leg. It is also multi-functional, with wireless and mobile printing features, as well as scanning and photocopying capabilities.
2. Size of Printer
With their relatively larger footprint, laser printers in the past tend to only be found in offices and other professional work settings. However, there have been notable improvements in this area in the past few years, resulting in the creation of consumer-friendly laser printers that are smaller and more suitable for home use.
Arguably though, if you only have limited space on a desk, it may be easier to find an inkjet that fits into that smaller space. However, if space is not an issue for you, do consider getting a laser printer for its speed and efficiency.
3. Printer Connectivity
Most modern printers — whether inkjet or laser — offer various forms of connectivity such as Wi-Fi and Ethernet.
If you prefer to directly communicate with your printer from your mobile phone, look for Wi-Fi Direct capability. This allows a direct connection to be established between your device and the printer. Near Field Communication (NFC) is another feature to look out for. With NFC-enabled printers, you can print or scan directly from your mobile devices. Simply place your NFC-enabled mobile devices over the NFC tags on the printer to establish the connection.
You may also want to consider the ease of printing from Cloud services such as Google Docs, Dropbox, OneDrive, and Evernote. Do read up on the different services that your ideal printer supports, as this could translate into time (and sanity!) savings. It would be a breeze to print from Cloud services without needing to use a computer.
As a leading edge printer company, Brother offers direct Cloud printing services on its range of modern laser printers.
4. Types of Functions
Before rushing out to buy your new laser printer, you'll have to ask yourself what types of documents you will be printing to determine the type of printer you should get.
These days, laser printers often come equipped with useful functions such as scanning and copying. You may not use these features frequently, but when you do need to call upon them—for instance in scanning your child's educational certificates, or your testimonial letters—it's nice to know that you have them all available at a touch of a screen/button.
Fancy being able to send scans directly from your printer to your mobile device or email? With Brother Cloud Apps—a free suite of innovative, cloud-based applications—now you can!
5. Types of Print Jobs
Laser printers are specifically built to quickly print out large numbers of documents and pages, whilst inkjet printing is generally a better fit for occasional or low-volume print usage.
Wish to have the versatility of printing both images and photos? You may need to weigh your options more carefully here.
Colour lasers offer superior print quality and colour depth and richness — if you are talking about printing on normal paper — but if you need to print on photo paper for poster quality prints, nothing beats an inkjet printer.
6.Black and White vs Colour
With the technological advancements in laser printers, the quality of both their monochrome (black and white) and colour prints have seen vast improvements in recent years. As such, whether you're printing photos for personal use or professional use, you can expect excellent colour prints from your laser printer.
7. Print Speed
When it comes to speed, laser printers beat their inkjet counterparts hands down. These mean machines can churn out around 40-50 pages per minute while inkjet printers print at a more gentle speed of 16-20 pages per minute.
When comparing your printer's pages per minute (ppm) rating, do bear in mind that such ratings usually depict printing under optimal conditions—usually with documents consisting of unformatted black text sent to the printer. Once factors such as document formatting, colour, and images are thrown in, your print speeds may slow down.
8. Cost of Toner
When purchasing a laser printer, the cost of replacement toner needs to be considered in addition to the initial upfront cost. ​
You may also need to take into account the cost of other consumables such as a replacement drum unit, which transfers the toner onto the paper, over the long-term.
9.Paper Handling
Most printers can handle paper up to A4 sizes, so if you're looking at printing documents on A3 paper, your options may shrink by quite a bit. Printers that can print on A3 (or larger) tend to also have a larger footprint, requiring more space at home.
If you need things to be printed on envelopes or other types of specialty paper, you will need to look for a printer with a multi-purpose tray. Do also check your printer's specifications to assess the weight limit of the paper that it can handle (in gsm).
Most people tend to overlook this, but there are other smart paper handling features that could make your life a little easier. These include functions such as automatic duplexing, which allows seamless 2-sided printing, as well as the ability to scan or copy multi-page documents via an automatic document feeder (ADF).
10. Power Consumption
Power consumption is another point worthy of consideration. In particular, you may wish to look out for eco-friendly printer models that come with a deep sleep mode. Do also check how much power the printer uses when it is actively engaged in printing tasks.
What are the Best Laser Printers for Home Use?

The Brother DCP-L2541DW monochrome laser Multi-Function Centre combines wireless and mobile printing, scanning and copying capabilities to deliver productivity and ease of operation. With a fast print speed of up to 34ppm, and excellent print quality that guarantees sharp, clear text and graphics every time, this laser printer offers great value for money.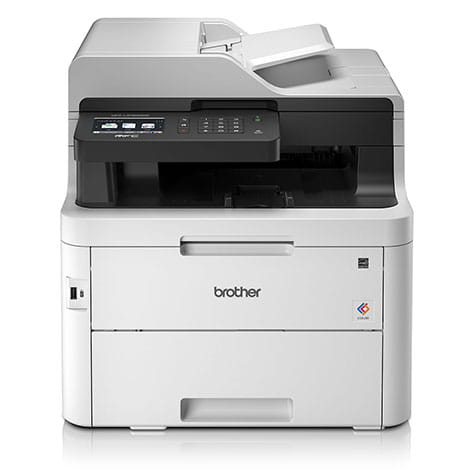 The Brother MFC-L3735CDN digital colour all-in-one delivers print, copy, scan and fax functions for home and small offices. Its 250-sheet capacity adjustable paper tray minimizes refills, while its 30-sheet capacity multi-purpose tray tackles diverse print needs including cardstock and envelopes. Its two-sided copying and scanning function further help Work From Home (WFH) folks to save precious time while creating more convenience.
Having a trusty printer in your home is vital to your professional or school success. With the above key considerations and printer recommendations, we hope you will be empowered to choose the best laser printer for your home.